When I was younger, I was literally obsessed with High School Musical (and I still kind of am, but I digress…), so this tag was literally calling to me when I saw it. I saw Books Over People do this tag first. You should all go check out her post because she's pretty cool.
Anyway, lets get onto the questions.
---
1. The Start Of Something New

A new favorite genre/author/series
I'd have to say The Lunar Chronicles by Marissa Meyer. I recently read Cinder and I really enjoyed it, and I'm planning on continuing with the series very soon.
2. What I've Been Looking For
A book that has everything you've ever wanted
City of Heavenly Fire: it was a perfect ending to the series and it was perfect and I just loved it so much.
3. Fabulous
A book with the biggest diva
I'm not really sure how to answer this. Moving on.
4. Stick To TheStatus Quo
A stereotype-defying character
Joey from Winger. He was gay but was still on the rugby team, which is pretty stereotype-defying if I do say so myself.
5. The Boys Are Back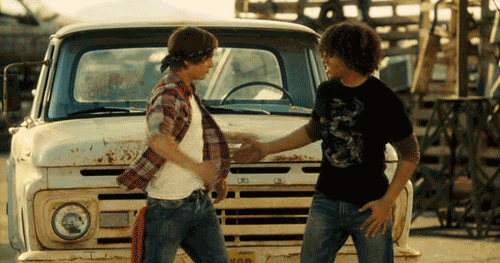 The best bromance
Jack and Ed from The Dead! I love them so much I can't handle it.
6. What Time Is It?
Your favorite summer read
I don't really have specific books that I like to read over the summer. My preferences stay the same throughout the year… so fantasy basically.
7. Every Day
A book cover you'd look at every day for the rest of your life
Recently I've been obsessed with the new Harry Potter covers. My favorite is the Order of the Phoenix one.
8. Just Wanna Be With You
A book you couldn't put down
Pretty much the entire The Enemy series by Charlie Higson. They're all perfect.
9. Scream
A character who frustrated you
Gilderoy Lockhart from Harry Potter. I know you're supposed to hate him, but he was just so irritating that it made it hard to get through the second book, which is why it's my least favorite of the series.
10. High School Musical
Your favorite fictional school
Is this honestly even a question? Hogwarts for sure. Who wouldn't pick Hogwarts?
11. Humuhumunukuapua'a
The most ridiculous book/scene/character you've ever read
I feel as though I'm going to get a lot of hate for this, but I have to say Augustus Waters. Like, honestly, no seventeen year old talks like that. No one would spend money on cigarettes and not smoke them just for a metaphor (a metaphor that doesn't even make sense to be honest). He comes of as pretentious and ridiculous. I still really like the book, though, but he just kinda irritates me sometimes.
12. Spring Musical Medley
The happiest ending
I can't remember the last book I read with a happy ending. Is that bad? Nah.
---
That was the High School Musical book tag. I'm not going to tag anyone, but I definitely recommend you do this tag if you're a fan of these movies like I am. That's all for today, though, so bye!
~ RJ